Industry
We manufacture stainless steel constructions, various solutions and products with years of experience world wide. In contrary to our multiple years of experience in this field, we continouosly update and work in accordance to the latest norms and quality standards.
Please review our references to get introduced to our works.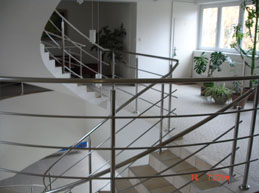 Interior - Home
We manufacture stainless steel solution into interiors and homes irregardless of size or complexity. If a client has an idea, we create a plan, manufacture and mount the product that the client dreamed of.

Please check our references of interior solutions here.